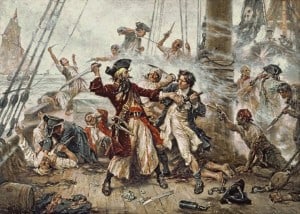 Who were the first really outrageously wealthy people in our civilization who were not born kings and queens? Seafaring merchants. Who using the power of technology, were able to sail to remote places and secure cheap and abundant goods and merchandise there.
But then sail SOMEWHERE ELSE where those goods and merchandise are NO LONGER abundant, but are rare. And that rarity means they can charge more than they paid. And the scarcity of quantity meant they can charge more than they paid. And the exclusivity of that cargo meant they could charge more than they paid.
And thus vast, international fortunes were founded and grew.
Now, enter piracy. Why bother sailing to these exotic locales to buy rare goods and move them all around when you can just rob the ships that are carrying these goods? Then you can turn around and sell them for LESS because your cost was ZERO.
Now, I know that a lot of us sell information. Perhaps we create it. Perhaps we assemble it. But in my observation, most people are not very good at MOVING that information from a "place" where it is abundant and cheap, to a place where it is rare and valuable.
And that is why they struggle with pricing and positioning. They are not changing the context and going exploring further down the coast until the find people who have never even heard of this amazing information and knowledge and experience you have to share.
And here is where we come back to piracy. I do not advocate that you steal anything from anyone. But think like a pirate. Look to the merchants who have already identified the goods and merchandise and where to get them cheaply. Look to the channels they have established for moving those things around for a profit.
You can easily replicate what they have had to invent and create and explore and develop… But then all YOU have to do is take it further. Take it to the places they aren't. Find the contexts where you can make that information even more valuable to potential buyers.
Who can get the biggest and best outcome with it?
Who can afford to pay the most for it?
Who needs it the most, but has the least ability to access it?
Who could access this but lacks the time and resources, though not the funding to implement?
Set sail on the seas of information – pillage the routes that are already working for others, and push that information into new arenas and create new markets and new demand for it. Never be hungry again.
Yo Ho. Yo Ho. A Pirate's Life for Ye.